Forum Posts
In Farmer Stories
The Whyte Farming operation goes back generations. Handed down by his dad, Donald Whyte has kept the business in the family and now his son Glen is taking on more involvement. Four generations have now farmed the Mid Canterbury station and with that family connection to the land, it means a close knit team managing the future of the farm. And that family connection to the venison industry is spread even further. Donald's daughter Angela runs her own operation to the south near Geraldine with husband Regan, and now independently operates in close conjunction with the main Whyte Farming station. In short, the Whyte family connection to venison breeding on the Canterbury plains runs deep and that doesn't look like it will change any time soon! But that's only one part of the story. Whyte Farming specialises as a breeding ground for deer. The animals are given space to have their fawns in sheltered areas that best reflect their natural habitat. From that point onwards, making the deer feel comfortable is the mantra that really sets the trend for their time at Whyte Farming. The grass and shrubbery is maintained to give the deer a varied diet as they would in the wild. "A varied diet and an environment that allows them to roam pays dividends in providing those further up the chain with a consistent quality product." And when it comes to venison, that point of view really lies at the heart of Whyte Farming. The awareness of being part of a chain. He says 'from the chef to the supplier to him as the producer. One cannot work without the other.' By keeping this all in mind, it means a close communication and constant focus on achieving exactly what the chefs need from their venison. It's this communication that reaches far and wide as well. Trips over to the United States have put the Whyte's in contact with chefs up the East Coast in an effort to introduce their product to a new audience. Whyte Farming is a family operation that runs on a very small scale. But with a reach as far as the United States, it sticks true to the New Zealand way of punching well above their weight.
In Chef's Table
When we spoke with Nigel, he had just been in Queenstown and was driving to Twizel for some fishing, hoping to catch some rainbow trout or salmon. Living the South Island dream as they say. Image by Cancer Society Canterbury-West Coast Nigel Heney is the owner of Columbus Coffee in Ashburton, part of a nationwide chain of stores that offers an environment that's a bit more homely and peaceful than your average coffee chain. Coming out of the Covid-19 lockdown, Nigel wanted to try something different as a way of delighting customers returning to the store. A venison pie isn't your usual menu item, especially in a cafe setting, and so Nigel thought to give it a go and after testing a few different recipes, he landed upon the Venison Pot Pie. The inspiration for putting venison on the menu came through a personal friendship. Kerry, General Manager at Mountain River Processors, has known Nigel for quite a while through their shared passion for golf and fishing. But what about the main event; the pie itself? Nigel says 'It's been amazing! We've sold 80-90 in the first few weeks! The feedback from customers has been fantastic too'. Nigel then goes on to describe the pie. 'The flavors are beautiful' he says. The pie consists of venison, onion, bacon red wine, Speights, carrot and pumpkin all boiled together in a big pot, after browning the meat, and wrapped up in a lovely pastry. So no doubting that it tastes gorgeous with that combination of ingredients. And it's not just Nigel. He says customers have been commenting on the flavour and the tenderness of the meat. All in all, this is one of those times where Nigel took a punt on a brand new recipe as a way to add something different to Ashburton's dining options. And as he tells it, choosing venison has totally paid off! Thank you Nigel for sharing you and your customer's experience with Mountain River Venison!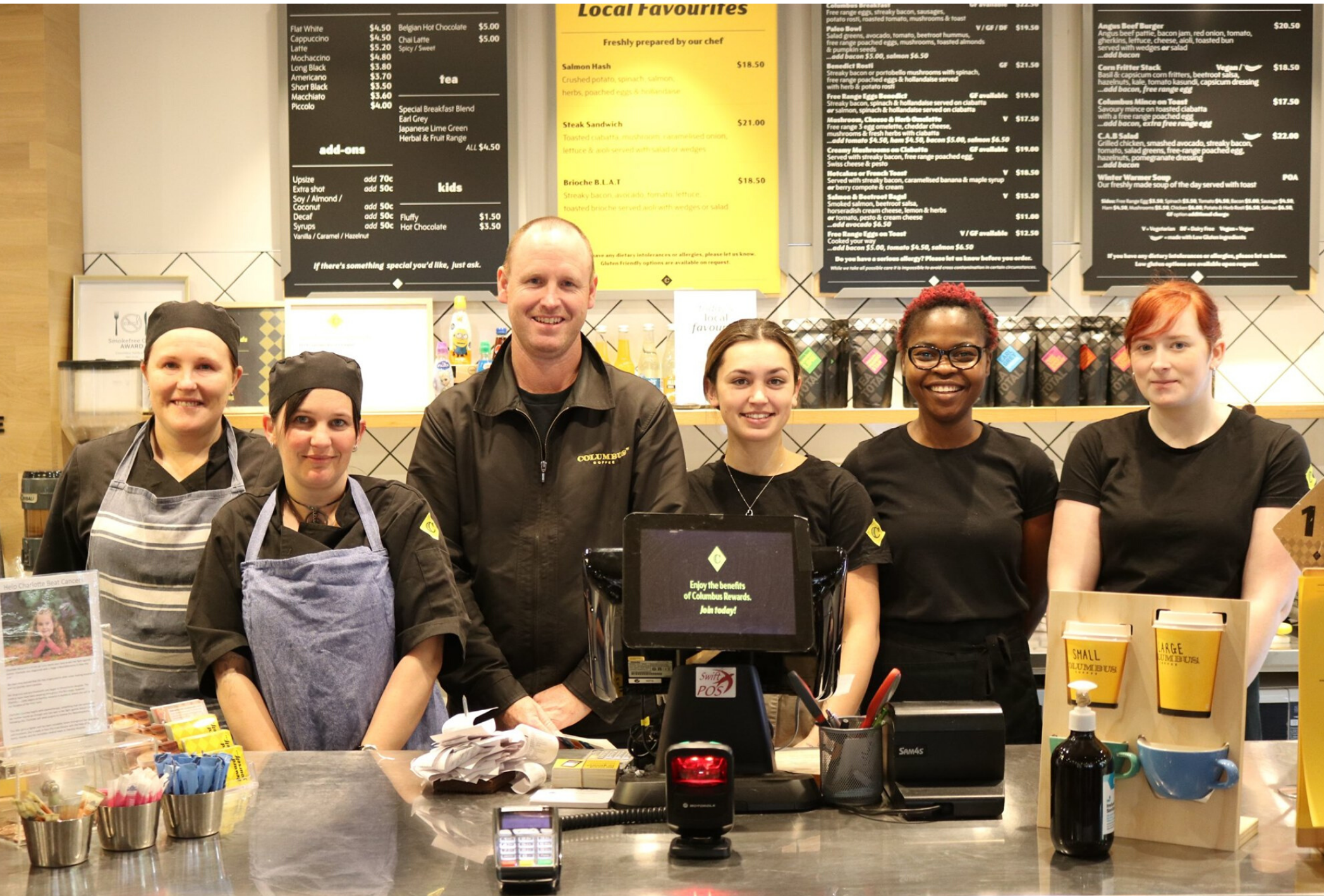 In Community News
The enthusiasm for Cervena venison in the American market hasn't let up at all, as Angus Cleland found out when he met with 15 plus distributor sales representatives recently in Fort Lauderdale, Florida. He says the main purpose of such a trip is to educate the reps and inform them about the product, the provenance of the program and the way it is produced. He told us "The US protein market is increasingly supplied by large industrialised farming systems whereas New Zealand production is characterized by smaller scale family farming operations that produce high quality meats with a great story to tell. When personnel in the down-stream supply chain have an opportunity to gain insight into what goes on behind the farm gate - this really resonates". This explains why a video of Raincliff Station in the South Island that was shown at the meeting was so well received. Angus says the way it clearly shows the farming business, the staff, and the barebones of how Cervena venison is raised - really connects with an American audience and sparks interest in what is a novel product in the US. Outside of events like this, however, Angus says it takes a lot of 'one-to-one' connection with all links in the distribution chain to effectively promote Cervena. Teaming up with distributor sales reps to visit chefs that are working with Cervena (or could be!), and meeting the restaurant wait-staff who ultimately offer the venison dish to the diner, is an essential part of this education process. It also gives the opportunity to build organic relationships. Angus stressed "it is essential that restaurant wait-staff have the tools to be able to explain the product to customers and answer any question they may have. The modern consumer is increasingly curious, educated about the foods they consume and are looking for verifiable attributes associated with those products". Angus Cleland introduces Mountain River Cervena Venison at a distributor sales show in Atlanta Slowly but surely, sales of Cervena venison are growing in the States. More and more high-end establishments like Eleven Madison Park in New York are putting New Zealand venison on their menus (amongst other game and specialty meat offerings) and there is an opportunity for expansion into more 'mid-tier' hotel, restaurant and institutional outlets. Angus says "America is a massive meat market and New Zealand producers have a wonderful story to tell". Mountain River Venison are picking up on those trends and know what needs to be told. The goal now is to give staff and chefs the knowledge to tell that story, find their point of difference, and maximize the opportunity for Mountain River Cervena to secure 'menu-share'. He went on to say that considering the positive response to consumer content so far, the interest is incredibly strong.